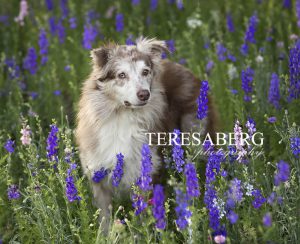 How do you say goodbye to your heart and soul furry best friend? Today I had to say goodbye to Remi. The kindest, sweetest, most tolerant Aussie I have ever known. He said it was time. I was not ready. But he was tired. I feel like my heart has been ripped out.
Our story started about 5 1/2 years ago. I was missing my Aussies, Charlie and Zoe, so much I decided it was time to look for another to fill that spot in my broken heart. I am not sure why, but I decided to look for a senior dog that needed a good home. A friend was fostering some Aussies and I went to go look at a 10 year old whose owner had passed away. This boy was a beautiful tri, and he was a working dog. He had been working on a farm and there was no way I could provide him that kind of active lifestyle. After discussing a few other dogs being fostered from the same group, my friend brought out Wayde. He was quiet, mellow, walked nicely on leash and was not overly impressive. They thought he was 10 to 11 years old. When I stepped back into the building and sat down in a chair, he promptly put his head in my lap. Ok, Sold!!
I brought him home, renamed him Remi after Frederic Remington the artist,  and took him to my vet for a well check. He had a topical yeast infection and bacterial infection. His fur was rough and narley. When he was found, he was missing a lot of his coat due to allergies. My vet and I did a thorough check over of him and we mutually decided he was not that old. Maybe 7? So I gave him a birthday of 3/17/2010. A day after the date I took him home. He would be a St. Patricks day boy. And aged at 7 years old.
Six months later and we were evaluating to be a therapy team. He loves people and especially kids. But anyone who will pet him and say hello is the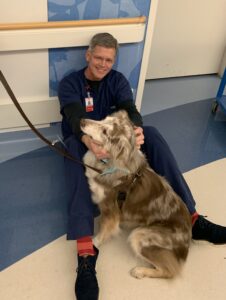 best thing ever. We worked at all sorts of facilities. Parkland Psychiatric Ward, Medical City Childrens, Children's Health, Dallas Children's Advocacy center, Dallas Libraries, and so many one time events. Everyone loved Remi.
It was amazing watching him work with kids. Never once, in all the time he has lived with me, has he ever gotten on the furniture or in my bed. I have begged, cajoled, tried to pick him up and place him in my bed. Nope, it was not in his nature. He would not get up so we could have a proper cuddle. But to watch him at the hospitals, trying to jump into the kids beds even before we were ready, was awe inspiring. I'd watch him and could tell when he really liked a kid or if he was like, "yeah, they are alright". If a child really needed him, he would lay down in the bed and put his head in their lap. Otherwise, he would lay next to them lengthwise and look at me. I will never forget the the time we were visiting with a young adult. As we were leaving her room, she dropped her laptop on the floor and I turned around to help her. Behind me, my friend that we visit with was saying, "Robin, Remi is shopping. Remi is shopping." It did not really connect in my brain until I turned around and caught him stealing and inhaling vanilla oreos off of her shelf. Such a goober!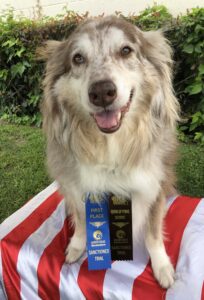 Remi and I did other things together as well. He became a Dog Scout and we went to dog scout camp. He earned badges just like girls scouts do. He earned his backpacking badge. Yes, he had to wear a backpack (saddle bags) and carry certain items while we walked together. We had to do a total of 6 miles. It was hard, for him and me. Neither of us have great knees, but we did it! He earned his swimming badge by swimming in the lake at camp (he wore a life jacket to help keep him afloat), several agility badges, his therapy badge, and others. Having those badges gave me such joy as proof of our time together.
We also dabbled in Barn Hunt. He got to hunt rats in tubes (no rats are harmed in this game) and run around a ring just enjoying the heck out of himself. We did not get very far in our winning of ribbons but he did earn his novice title and really had a good time because, after all, we were doing something together.
I have never watched a calmer, gentler dog tell another dog they were acting inappropriately as Remi would. It was amazing to watch him. I have so many young dogs that come to the house. For training or playtime. I remember very well, and managed to get it on video, Remi sliding right up next to the offending pup, puffing his chest up, head held high and calmly and quietly telling the youngster what he was doing was not acceptable. With no sound, no contact or anything a novice person would notice, he told the youngster off and that pup promptly laid down and didn't move. Then Remi walked off. I could just imagine him if he had hands, giving the "washing my hands" signal and saying "that is how it is done".
Three years ago, at Wags and Waves (Hawaiian Falls opens for the dogs the last day of their season) I found a golf ball sized lump on his hind end.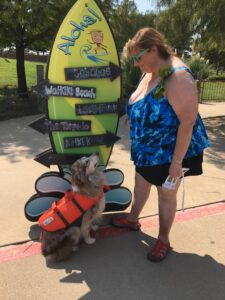 That was a start of a whole new journey for us. My vet took a needle biopsy of it and it came back as a lipoma. So when I was having his teeth cleaned, I asked them to remove the lump. The vet doing the surgery called me in the middle of surgery and told me it was the strangest lump she had ever seen. It was encapsulated and went all the way to his spine. They removed what they could and sent it off for analysis. Sadly, it came back as a soft tissue sarcoma. Not only were they not able to get clean margins because it was so close to his spine, but it is a reoccurring cancer.
Now we are onto speciality vets. We saw a wonderful oncologist in Ft. Worth and as many of you know, we did 4 rounds of radiation treatment. After that, he went in every three months for the oncologist to review the site and check for any additional growths. Two years later, early 2022,  and he was deemed cancer free. But now he was having these very random seizures or tremors. And he was starting to have issues with his rear legs in that when he got up or walked on slick surfaces, his legs would splay.
So off to a neurologist we went. X-rays were done and it was found that he now had spondylosis in his lower lumbar and sacrum area. And some neuropathy at the surgical site. To combat this, we started seeing an acupuncturist, an acupressurist and a massage therapist. Every week, this lovely boy and I would drive, sometimes hours, sometimes less, to see his vet of choice that week. We both worked so hard at keeping him happy, healthy and walking.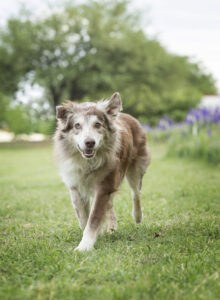 A few weeks ago, Remi went down in the rear end. He had several days where he could not get up on his own, and even when I helped him, he could not get his feet under him. Panicked, I ran him to my vet in an emergency. There was not a whole heck of a lot they could do for him. My vet said we needed to try steroids, what the vets call the "Hail Mary" attempt to keep him going. And I upped our visits to the accupressure vet who also does holistic vet care. Amazingly, Remi felt pretty well for another couple of weeks. And then he went down again. At this point, I am told, everything has been done that can be done. So now it is up to me to love him enough to give him the gift of softly passing over the rainbow bridge.
Remi and I have spent the last few days, doing things that he liked to do. We drove to the lake and sat in the sun. We shared hamburgers while sitting in the sun. He had friends come to visit to say goodbye. And I took him to see friends to say goodbye. We did a whole celebration of life together. Never before have I had the luxury of time before saying goodbye. All of my dogs have had to pass due to some immediate, horrible illness. Planning Remi's sleep has been a blessing and so very hard. I have second guessed myself many times over. But in the end, I know it is up to me to listen to what he is telling me and he says he is tired.
My vet came to the house today, so he could go to sleep in his own home. Eating his salmon and ricotta bark pouch and with our dogs and me around him that loved him beyond measure, he quietly fell asleep. It is one of the hardest things I have ever had to do. Yes, I have had a lot of dogs. And I hurt when they have to say goodbye. But Remi, well, I do not know how to explain that every bone in my body aches from sadness. There will never be another Remi.
He has truly been one of a kind!
Until we meet again my friend, rest in peace and run free. I will dream of you often. XOXOXO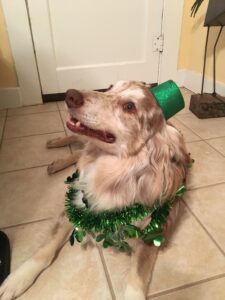 Frederic Remington (Remi) 3.17.2010 – 10.4.2022